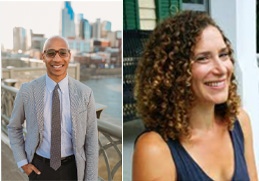 Brandon R. Byrd and Lizzie Skurnick are the winners of the 2023 Frances "Frank" Rollin Fellowship for biographical works-in-progress that make a significant contribution to our understanding of the Black experience. Byrd and Skurnick are the first double recipients of this prize since best-selling biographer Kitty Kelley, a longtime BIO Board member, earmarked a major gift of $50,000 to the Rollin Fellowship in 2022.
Byrd has won for his biography-in-progress Pap: The Life and Legacies of Benjamin Singleton (forthcoming from Vanderbilt University Press) and Skurnick has won for The Special Students: My Great-Grandfather at Harvard, His Mysterious Death, and the Rise of the Talented Tenth (forthcoming from Henry Holt & Company). The committee was impressed by Byrd's engaging invocation of a Reconstruction-era Black emigrationist—a latter-day "Moses"—who led his people, through property ownership, to resist the forces of disenfranchisement. They were equally taken by Skurnick's measured account of George Whitte Jordan, an ill-fated ancestor, who was among a coterie of early 20th century Black scholars that Harvard University once relegated to a discrete racial-caste category called "Special Students."
Brandon R. Byrd  is a historian of Black intellectual and social history. He is an associate professor of History at Vanderbilt University, where he teaches graduate and undergraduate classes on African American history, United States history, Haiti, the Black Atlantic, and global Black thought, art, and politics. He is the author of  The Black Republic: African Americans and the Fate of Haiti, published by the University of Pennsylvania Press in 2020, among other books.
Lizzie Skurnick  is a writer, editor, and cultural critic. Her work has appeared in The New York Times, Time, The Boston Globe, NPR, the Los Angeles Times, and elsewhere. Her first book, Shelf Discovery: The Teen Classics We Never Stopped Reading, published by HarperCollins in 2009, is a literary and cultural history of young adult fiction based on her column of the same name.
Named for Frances ("Frank") Anne Rollin Whipper, one of America's first recorded African American biographers, BIO's Rollin fellowship seeks to help remediate the disproportionate reflection of Black lives and voices in published biography and to encourage diversity in the field. The fellowship awards $5,000 to each of two recipients, along with a year's membership in BIO, registration to the annual BIO Conference, and publicity through BIO's marketing channels.