Sonia Purnell Wins 2020 Plutarch Award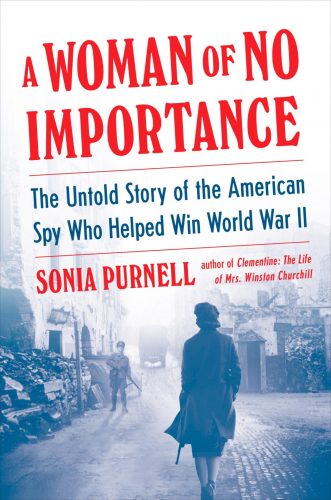 Sonia Purnell's A Woman of No Importance: The Untold Story of the American Spy Who Helped Win World War II (Viking/Penguin) has won the 2020 Plutarch Award for the Best Biography of 2019.
The Plutarch is the world's only literary award given to biographers by biographers. Named after the famous Greek writer, BIO awards the honor to the best biography of the year, chosen by a committee of five distinguished biographers. The award comes with a $1,000 honorarium.
Caroline Fraser, Plutarch Award Committee Chair, stated, "The life of an obscure figure, Virginia Hall, rose to the top of the Plutarch list this year in Sonia Purnell's remarkable feat of research and storytelling. Combing Resistance files in Lyon and archives in London, Paris, and Washington, DC, Purnell retraced Hall's well-concealed life, revealing the extreme perils and betrayals she faced, including the misogyny of handlers who nearly got her killed. Vulnerable, reckless, and ruthless, Hall emerges as a character of great complexity: an American woman who survived behind enemy lines in Nazi-occupied France with a wooden leg and a questionable French accent, setting up spy networks for Churchill's government and refusing to evacuate as the Gestapo closed in. With the propulsive power of an espionage thriller, A Woman of No Importance sheds new light on the role of women in warfare."
Sonia Purnell is a biographer and journalist who has worked at The Economist, The Telegraph, and The Sunday Times. Her previous book, Clementine: The Life of Mrs. Winston Churchill, was chosen as Book of the Year by The Telegraph and The Independent and was a finalist for the 2019 Plutarch. NPR chose A Woman of No Importance as their Best Book of the Year, and film rights have been sold to Paramount.
Purnell responded to news of her win, saying: "Virginia Hall was a hero in the true sense of the word, and I am thrilled beyond words to receive the Plutarch Award as a tribute to her legacy. I see myself as the lucky one who got to tell her story. She didn't always make it easy, but we got there in the end! Thank you for this incredible honor, which is a treasure to me."
In addition to Caroline Fraser, members of the 2020 Plutarch Award Committee are Peniel E. Joseph, Hans Renders, John Richetti, and Susan Ware. The Plutarch Award Committee originally chose ten semi-finalists before selecting five finalists for the 2020 prize. You can see all of this year's finalists and the long list here.