Register for BIO Virtual Event: An Evening with Kitty Kelley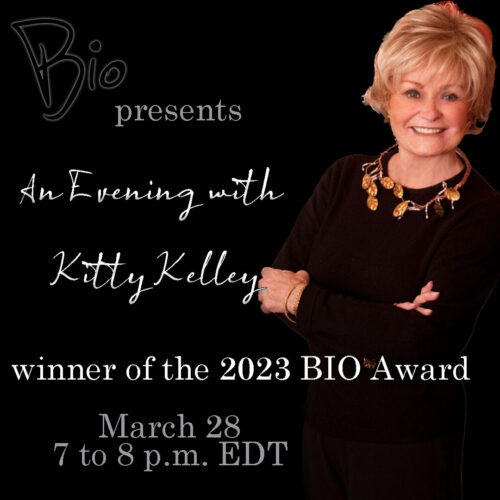 Kitty Kelley is the preeminent unauthorized biographer of our time and is the winner of the 2023 BIO Award. The BIO Award is presented annually to an individual for contributions to advancing the art and craft of biography. To celebrate Kelley and learn about her process, we are hosting An Evening with Kitty Kelley via Zoom on Tuesday, March 28, from 7 to 8 pm Eastern Daylight Time.
Register here.
Kelley is the author of seven groundbreaking, best-selling biographies of some of our culture's most iconic figures: Oprah: A Biography (2010), The Family: The Real Story of the Bush Dynasty (2004), The Royals (1997), Nancy Reagan: The Unauthorized Biography (1991), His Way: The Unauthorized Biography of Frank Sinatra (1986), Elizabeth Taylor: The Last Star (1981), and Jackie Oh! (1978).
Heath Hardage Lee will engage Kelley in conversation and then invite questions from the audience. Lee is the author of Winnie Davis: Daughter of the Lost Cause (Potomac Books, 2014) and The League of Wives: The Untold Story of the Women Who Took on the U.S. Government to Bring Their Husbands Home (St. Martin's Press, 2019).
They will discuss the challenges of writing books about living public figures as well as the legwork, research, and documentation involved in producing a scrupulous biography. As The Hollywood Reporter noted last year, "While many have tried to take her down, the ever-grinning Kelley has never been successfully sued by a source or subject."
To learn more about Kelley's work ahead of the event, we recommend her essay "Unauthorized, But Not Untrue" from The American Scholar.
The event is free and open to any who register. Registrants will receive a recording of the event.