Register for Sept. 17 Online Event with 2022 Plutarch Award Winner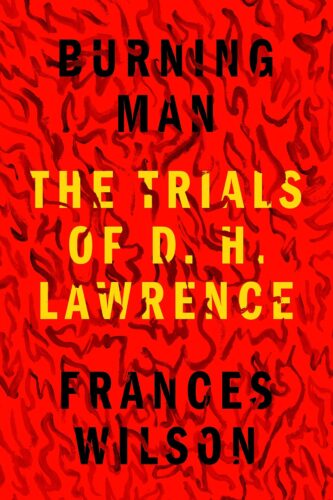 BIO is pleased to announce the first in a series of online events planned for 2022-2023: a discussion of the 2022 Plutarch Award winner, Burning Man: The Trials of D. H. Lawrence by Frances Wilson. The event will take place on Saturday, September 17, from 2:00 to 3:00 p.m. Eastern Daylight Savings time.
Register here.
Nigel Hamilton, chair of the 2022 Plutarch Award committee, will interview Frances Wilson about the way she crafted the book, followed by ample time for questions and discussion. Copies of Burning Man are readily available. If you order it here, BIO will get a small percentage of the profit. Please try to read the book before the event.
The Plutarch committee said this about the book: "Frances Wilson's brilliantly conceived and executed biography of D.H. Lawrence presents his life through the surprising structure of Dante's Divine Comedy, which follows the poet's struggles through hell, purgatory and paradise in search of, and accompanied by, Beatrice."
Frances Wilson is a London-based biographer and critic whose books include The Ballad of Dorothy Wordsworth (Winner of The British Academy Rose Mary Crawshay Prize 2008), How To Survive the Titanic; Or, the Sinking of J Bruce Ismay  (winner of the Elizabeth Longford Prize for Historical Biography 2012), Guilty Thing: A Life of Thomas De Quincey (finalist for the National Book Critics Circle Award, the Los Angeles Times Book Prize and the Plutarch Award 2016), and Burning Man: The Trials of D H Lawrence (finalist for the Duff Cooper Prize, and the James Tait Black Memorial Prize). She was Jean Strouse Fellow at the Dorothy and Lewis B Cullman Center in 2018 and is a fellow of the Royal Society of Literature.
Nigel Hamilton has published 25 works of biography, history and memoir, as well as made documentary films. His JFK: Reckless Youth became a New York Times bestseller and was made into a four-part ABC television mini-series. The Mantle of Command, the first volume of his wartime life of FDR, was longlisted for the National Book Award; the last, War and Peace, was published in 2019. He is currently completing Lincoln versus Davis: The Struggle Between Two Presidents.