Hermione Lee Wins 2020 BIO Award
By Justin Spring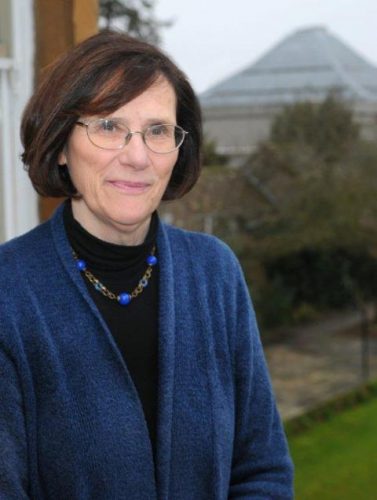 Dame Hermione Lee, Emeritus Professor of English Literature, University of Oxford, is the winner of the 11th annual BIO Award, a prize bestowed yearly by the Biographers International Organization to a distinguished colleague who has made a major contribution to the advancement of the art and craft of biography. Lee will receive the honor on May 16, at the 2020 BIO Conference at the Graduate Center of the City University of New York, where she will also deliver the conference's keynote address.
One of the leading literary scholars and critics of our time, Lee is best known for her Virginia Woolf (1996), widely considered the definitive biography of that author. The book won the British Academy's Rose Mary Crawshay Prize.
Comfortable with literature from both sides of the Atlantic, Lee has written biographies of two American novelists, Edith Wharton and Willa Cather, and also a critical study of Philip Roth. In addition, she has written a biography of the Anglo-Irish novelist Elizabeth Bowen and, most recently, of the British novelist, poet, essayist, and biographer Penelope Fitzgerald. Penelope Fitzgerald: A Life was the winner of the 2013 James Tait Black Prize and BIO's 2015 Plutarch Award.
Lee has written extensively on the art and craft of what she calls "life-writing," most notably in her books Virginia Woolf's Nose: Essays on Biography (2005) and Biography: A Very Short Introduction (2009). She is a fine critical reviewer and judge of biographies, and her reviews have appeared regularly in The Guardian and The New York Review of Books, among many other publications. She was chair of the judges for the Man Booker Prize for fiction in 2006 and has judged many other literary prizes throughout her career. In her work as a scholar of literature, she has edited and introduced numerous editions and anthologies of works by major English and American writers, including Rudyard Kipling, Anthony Trollope, Virginia Woolf, Stevie Smith, Elizabeth Bowen, Willa Cather, Eudora Welty, and Penelope Fitzgerald.
Hermione Lee has worked hard to raise the academic perception of biography. As president of Wolfson College, Oxford, she founded the Oxford Centre for Life-Writing, in 2011. Nearly 10 years later, the Centre has become a busy hub of activities relating to many kinds of life-writing and interdisciplinary inquiry. Through its sponsorship of talks, lectures, performances, panel discussions, conferences, seminars, and workshops the Centre has helped raise public awareness about various forms of life-writing. It also fosters biographical research through postdoctoral research fellowships, postgraduate scholarships, visiting scholarships, and visiting doctoral studentships.
Lee's honors are almost too many to list. She is a Fellow of the British Academy and of the Royal Society of Literature, and a Foreign Honorary Member of the American Academy of Arts and Sciences. She was appointed Commander of the Order of the British Empire (CBE) in 2003 for services to literature, and in 2013 was appointed Dame Commander of the Order of the British Empire (DBE), also for services to literary scholarship.
"I am delighted, honored, and amazed," Lee wrote BIO President Linda Leavell when informed she had won the BIO Award. "Thank you so much, and thanks to the committee. It is particularly exciting to be given this prize for the Life-Writing Centre here in Oxford as well as for my writing. I accept with pleasure."
Previous BIO Award winners are James McGrath Morris, Jean Strouse, Robert Caro, Arnold Rampersad, Ron Chernow, Stacy Schiff, Taylor Branch, Claire Tomalin, Candice Millard, and Richard Holmes.
Justin Spring, chairman of this year's Awards Committee, is the author of Secret Historian: The Life and Times of Samuel Steward (FSG, 2011), The Gourmands' Way: Six Americans in Paris and the Birth of a New Gastronomy (FSG, 2017), and Fairfield Porter: A Life in Art (Yale University Press, 1999). A Finalist for the National Book Award and the recipient of many other prizes and honors, he has also held a Guggenheim Fellowship in Nonfiction Writing and a Leon Levy Fellowship in biography. He specializes in interdisciplinary and cross-cultural subjects.