Bio Announces Longlist for 2020 Plutarch Award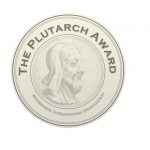 BIO's Plutarch Award jury has nominated 10 books for the Plutarch Award, honoring the best biography of 2019. The Plutarch is the only international literary award judged and presented by biographers. BIO's Plutarch jury will choose five finalists from the longlist and announce the winner on May 16 at the 11th Annual BIO Conference in New York. This year's nominees, in alphabetical order by the author's last name, are:
All the Powers of Earth: The Political Life of Abraham Lincoln, 1856–1860, Sidney Blumenthal (Simon & Schuster)
Black Radical: The Life and Times of William Monroe Trotter, Kerri K. Greenidge (Liveright)
Sisters and Rebels: A Struggle for the Soul of America, Jacquelyn Dowd Hall (W.W. Norton)
Gods of the Upper Air: How a Circle of Renegade Anthropologists Reinvented Race, Sex, and Gender in the Twentieth Century, Charles King (Penguin Random House)
Gropius: The Man Who Built the Bauhaus, Fiona MacCarthy (Belknap Press-Harvard University Press)
Susan Sontag: Her Life and Work, Benjamin Moser (Ecco)
Our Man: Richard Holbrooke and the End of the American Century, George Packer (Knopf)
A Woman of No Importance: The Untold Story of the American Spy Who Helped Win World War II, Sonia Purnell (Viking)
George Marshall: Defender of the Republic, David L. Roll (Dutton Caliber-Penguin Random House)
Alice Adams: Portrait of a Writer, Carol Sklenicka (Scribner)
"The longlist reflects biographers' wide-ranging interests and talents, showcasing the best of the genre's originality, diversity, deep scholarship, and excellent writing," said Caroline Fraser, Plutarch Award Committee Chair. "It's been a remarkable year for biography, highlighting individuals from virtually every field and walk of life:  entertainment and the arts, politics, history, literature, philosophy, religion, sports, and science. There's something for everyone."
Along with Fraser, the members of this year's jury are Peniel E. Joseph, Hans Renders, John Richetti, and Susan Ware.