Announcing a New BIO Event—Biography Lab 2023: An Online Forum on Craft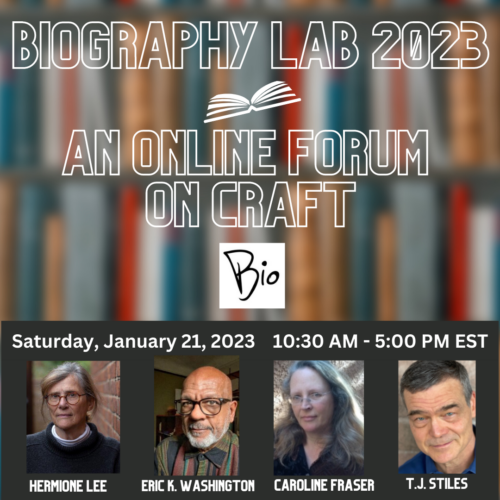 Biography Lab 2023: An Online Forum on Craft is a one-day, online conference that will take place on Saturday, January 21, 2023.
BIO's Board of Directors created this event, which we hope will become annual, in direct response to the feedback we received after the May 2022 online BIO Conference. While many BIO members are eager to meet in person again, many others urged us to preserve some aspects of the online conference for those unable to travel. Our post-conference survey indicated that learning biographical craft is the number one reason participants attend the Conference.
Biography Lab 2023 will feature a keynote by Dame Hermione Lee on "Biographical Choices." Three other distinguished biographers will conduct individual 90-minute sessions on aspects of biographical craft. Eric K. Washington will lead one on finding a subject's unwritten voice;  T. J. Stiles will discuss characterization; and Caroline Fraser will direct hers on incorporating history into biographies. Each of these sessions will allow plenty of time for questions from participants. The day will conclude with an online social hour.
Best of all, the conference is offered at no charge to BIO members and to students. The fee for nonmembers is $60, which includes a year's membership in BIO.
For more information about Biography Lab 2023, click here. To register, click here.