2023 Plutarch Award Longlist Announced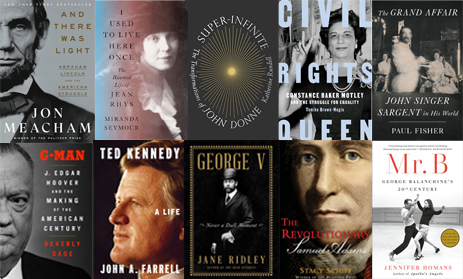 A distinguished panel of judges from the Biographers International Organization (BIO) has selected 10 nominees for the 10th annual Plutarch Award, the only international literary award for biography judged exclusively by biographers. This year's Plutarch Award Committee members are Deirdre David, Roy Foster, Charlotte Jacobs, Tamara Payne, and Will Swift.
Deirdre David, chair of the committee, says, "The judges this year were impressed by the remarkable variety and stellar quality of the books on our longlist. They showcase a diversity of subjects, intrepid scholarship, and an admirable illumination of both cultural and political achievement in an historical context. They also offer examples of the skills that enhance the art and craft of biography: how to work around black holes in a subject's life and how to present a fresh portrait of a well-known figure in addition to bringing forth relatively unknown subjects to vivid life. The longlist [books] provide splendid evidence of how to write movingly and creatively about vastly different personalities representing many fields of accomplishment. We are pleased to present biographies about a poet, a novelist, a choreographer, a portrait painter, a civil rights lawyer, an iconic US president, a revolutionary, a US senator, an FBI G-man, and a misunderstood British monarch."
Below is a synopsis of the biographies on the Plutarch Award longlist:
Tomiko Brown-Nagin, Civil Rights Queen: Constance Baker Motley and the Struggle for Equality
(Pantheon Books)
In Civil Rights Queen, Tomiko Brown-Nagin illuminates the career of the first African American woman appointed to the federal bench. During the opening remarks of her confirmation hearing in March 2022, Supreme Court Justice Ketanji Brown Jackson cited Motley as the judge whose legal shoulders she stands upon. In this exhaustively researched biography, Brown-Nagin convincingly demonstrates how instrumental Motley's work was in the dismantling of Jim Crow laws. She provides a riveting depiction of James Meredith's battle to desegregate the University of Mississippi and shows how, in one of her most crucial cases, Motley assisted Meredith through a mental breakdown, until they won in court. Brown-Nagin details the pain and trauma of those who stood up and fought segregation, while exposing the courtroom antics of segregationist lawyers and judges. Highlighting Judge Constance Baker Motley's personal and historical importance, Brown-Nagin unveils how Motley won some of her most important civil rights cases and examines the impact of many of the other decisions she handed down during her judgeship.
John A. Farrell, Ted Kennedy: A Life
(Penguin Press)
In his fresh, briskly paced, and novelistic Ted Kennedy, prize-winning biographer John Farrell brings the "Lion of the Senate" to his own place at the center of the Kennedy political dynasty and the conflicts between the forces of liberalism and conservatism in late 20th-century and early 21st-century America. Through meticulous research, including delving into Kennedy's diary entries, family papers, and interviews with family members, Farrell crafts an even-handed but ultimately sympathetic account of the insecurities and recklessness that led Kennedy to the edge of self-destruction. In his masterful account of backroom deal-making, he shows us how Kennedy led the way with empathy and determination in championing AIDS funding, gay rights, healthcare reform, voting rights, and anti-apartheid activism. This is an edifying story of the expiation of personal failings through committed political action.
Paul Fisher, The Grand Affair: John Singer Sargent in His World
(Farrar, Straus and Giroux)
In The Grand Affair, Paul Fisher, a professor of American studies at Wellesley College, presents a bold, enthralling narrative of the life of legendary painter John Singer Sargent (1856–1925), whose audacious and sensual portraits brought him fame and notoriety. Within his vivid depiction of the fin-de-siècle world Sargent inhabited, Fisher illuminates Sargent's expatriate family in Europe, the evolution of his artistry, and the divergent aesthetic circles in which he moved. Fisher also offers compelling insights into the multi-layered process of making great art. In addition, he is circumspect in examining the ambiguities and uncertainties of Sargent's sexuality and adept at exploring the profound complexities of human intimacy.
Beverly Gage, G-Man: J. Edgar Hoover and the Making of the American Century
(Viking)
In G-Man, Beverly Gage examines the man who was the face of the FBI for 48 years (1924–1971). Through extensive research, which includes newly released documents of Hoover's personal and official files, Gage peels back the layers to reveal the world and the forces that shaped Hoover. Through this exploration of his views on masculinity, racism, and what he deemed as threats to American security both externally and internally (e.g., communism, organized crime, and Black agitators such as Martin Luther King Jr.), we gain a deeper understanding of Hoover—the man, the country he served, the tactics he used to serve it—and how his legacy looms over us today.
Jennifer Homans, Mr. B: George Balanchine's 20th Century
(Random House)
In this brilliantly researched biographical journey, Jennifer Homans takes Balanchine from being a nine-year-old student at the Imperial Ballet School in St. Petersburg, scavenging for food in the early days of the revolution, to his emergence as the world-renowned magnificent choreographer who in 1948 co-founded (with Lincoln Kirstein) the New York City Ballet. Drawing on her experience as a trained dancer, Homans elegantly integrates analysis of Balanchine's choreography with historical research to demonstrate Balanchine's tumultuous, 20th-century artistic life. She creates a thrilling narrative of choreographic innovation that was developed, displayed, and applauded in Russia, Weimar Germany, Paris, and eventually New York. Attuned to Balanchine's lifelong devotion to seeing everything in his life to an expression of his art (he was an impresario of cooking and ironing, as well as much else), she explores how his friends, his lovers, and the dancers he worked with (and often adored) were all seen as serving the world of ballet. Mr. B presents us with a splendid tribute to a dazzling 20th-century genius.
Jon Meacham, And There Was Light: Abraham Lincoln and the American Struggle 
(Random House)
In undertaking this admirable biography, Pulitzer Prize-winner Jon Meacham said he set out to determine not only how Lincoln did what he did but also why. As a result, he demystifies Abraham Lincoln as a saintly hero, portraying him as an imperfect human being. Meacham details the early experiences that shaped Lincoln's moral vision and the challenges he faced balancing pragmatic compromises with higher goals in his political career. Despite his foibles and his inconsistencies regarding racial differences, the president's belief in a covenant with God, who created all men equal, ultimately forged his decision to issue the Emancipation Proclamation. Meacham shows us how profoundly Lincoln relied upon religious language in some of his most important public speeches, notably his second inaugural address. In this intensely soulful and moving biography, Meacham allows us a greater window into the deepest dimensions of one of our greatest presidents.
Jane Ridley, George V: Never a Dull Moment
(HarperCollins)
In her new biography, Jane Ridley seizes upon the paradox observed by one of King George V's advisers—that although the monarch seemed a dull man, his reign (1910–1936) spanned a period of continuous crisis and upheaval, both internationally and domestically. Illuminating the relationship between the apparently limited and unimaginative sovereign and his tumultuous times requires formidable abilities of psychological perception, as well as heavyweight scholarship, and Ridley possesses these in full measure. She also displays a witty comprehension of significant minor incidents and foibles of character: the bizarre rituals and practices of royal lives are woven into the larger human comedy, above all in her portrait of the marriage that underpinned the creation of the first "family monarchy," and the implications of this for the future of democracy in Britain. This is a long book, exploring a wide range of original sources including an impressively thorough use of the legendary Royal Archives. Nonetheless, it is rivetingly readable, often very funny, and fully lives up to its quizzical subtitle—as well as showing that the lives of crowned heads can be treated in a way that breaks new ground in the treatment of major historical themes.
Katherine Rundell, Super-Infinite: The Transformations of John Donne
(Farrar, Straus and Giroux)
Using superbly vivid prose, Katherine Rundell gives us this joyful, scholarly, and informative biography of the poet she declares to be "the greatest writer of desire"  in the English language. She takes us from Donne's Catholic boyhood, through his various secretarial positions to aristocrats in both the Elizabethan and Jacobean courts, to his eventual celebrity as Dean of St. Paul's, in 1615, where thousands clamored to hear him preach. From her flawless research, we learn fascinating details of how his poems were circulated to his friends (often on tiny scraps of paper), of how he studied the law, and of how he married a sixteen-year-old girl and struggled to support a family of 10 children. For Rundell, Donne was a poet who in the process of constantly transforming himself and his art, reconciled the sacred and the profane, the soul and the body. And, in her strikingly creative biography, she herself transforms familiar images of Donne as distantly mysterious, even unknowable, into a portrait of glorious poetic genius that is present both on the page and in his life.
Stacy Schiff, The Revolutionary: Samuel Adams
(Little, Brown and Company)
In this luminous, often dazzling work of art, Pulitzer Prize-winner Stacy Schiff conducts a master class in dealing with black holes in biography. She resurrects Samuel Adams, an elusive and crucial revolutionary who changed world history. Adams destroyed his documents and letters and reveled in secretly masterminding the greatest campaign of civil resistance in American history. Schiff's exemplary research reveals him to be a virtuous, persuasive, and devious political activist who had the fortitude to "wire a continent for rebellion." In creating a brilliant sense of place, she brings us a fresh view of Colonial New England and the seminal events in the birth of our nation, while illuminating Adams and the world he transformed.
Miranda Seymour, I Used to Live Here Once: The Haunted Life of Jean Rhys
(W. W. Norton)
Miranda Seymour describes her subject's life as "haunted"—and therefore, the considerable achievement of this compelling book is to trace the ghosts of an unhappy existence back to their origins and bring them into the light of day, showing how they impelled an original writer to produce a small but classic oeuvre. Despite the cult status now rightly accorded to Rhys's fiction, it seems extraordinary that no previous biographer has fully investigated her roots and background in Dominica, which is illuminated here. So are the obscure years between her first publications and her life in literary Paris during the 1920s, and her extraordinary renaissance and rediscovery in the 1970s. Seymour conveys the grit and creative commitment, as well as the addictions and deliberately "impossible" behavior that lay behind "the Jean Rhys woman"—a figure who appears and reappears in the novels. She indicates with delicacy as well as decisiveness the points at which Rhys' life and books diverge, and she further navigates a careful course between the many figures in Rhys's later literary life who claimed responsibility for bringing her back to notice. This kind of empathetic disentanglement is what literary biography must do, and this book is an example of the best kind of that genre.