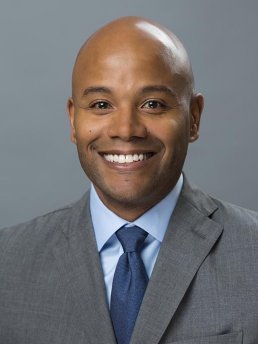 Peniel E. Joseph will discuss his The Sword and the Shield: The Revolutionary Lives of Malcolm X and Martin Luther King, Jr. in a conversation with author and poet Ed Pavlic. This event will take place via Zoom on Thursday, April 22, at 6:30 Eastern time. You may register by clicking on this link. You will receive another link to watch the event.
Members of the Biographers' Circle are generously donating to this fundraising event. Gayfryd Steinberg, a member of BIO's Advisory Council, and her husband Michael Shnayerson organized this philanthropic group in 2019 to support BIO's fellowships and awards. Once the pandemic ends, Biographers' Circle events will again take place in private homes.
Peniel Joseph, another member of BIO's Advisory Council, is a professor in the Department of History at the University of Texas at Austin, where he directs the Center for the Study of Race and Democracy. He is the author of Stokely: A Life as well as other books about the Civil Rights Movement. Ed Pavlic is a professor of English, African American Studies, and Creative Writing at the University of Georgia. His most recent publication is a book of poems focusing on racial dynamics in contemporary life, Let It Be Broke.
BIO President Linda Leavell said, "On behalf of BIO's Development Committee—Deirdre David (co-chair), Kitty Kelley, and Will Swift (co-chair)—I invite you to join members of the Biographers' Circle for a stimulating evening."
A donation of $25 is suggested but not required. All gifts are tax-deductible. Click HERE to donate via credit card or PayPal.
Or send a check, made out to "Biographers International Organization" directly to:
Biographers International Organization
PO Box 33020
Santa Fe, NM 87594