The 2023 BIO Conference is Now in Progress!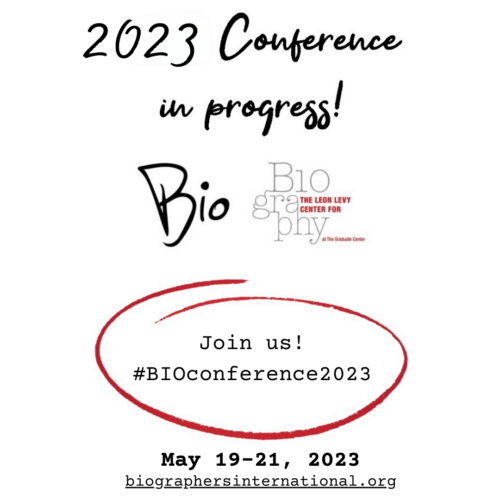 The 2023 BIO Conference is now underway at the CUNY Graduate Center in New York. You can view the digital conference program here.
The following events and sessions will be live-streamed for virtual attendees:
Friday, May 19, 2023
4:00pm – 4:45pm: Member Readings: BIO members read excerpts from their recent biographies.
4:45pm – 5:30pm: Presentations of the Biblio Award, Robert & Ina Caro Research / Travel Fellowships, the Chip Bishop Fellowship, the Frances "Frank" Rollin Fellowship, the Hazel Rowley Prize, and the Ray Shepard Award.
Saturday, May 20, 2023
8:40 – 9am: Welcome, Kai Bird (Leon Levy Center for Biography) and Linda Leavell (Biographers International Organization)
9:10am: James Atlas Plenary, Blanche Wiesen Cook and Beverly Gage in Conversation
10:15am – 11:15am: Panels Session I, "What Editors Want." Will Swift, moderator; Amy Caldwell, William Frucht, John A. Glusman, Hilary Redmon.
11:30am – 12:30pm: Panels Session II, "Book Promotion in the Age of Social Media." Lisa Napoli, moderator; Allison Gilbert, Brian Jay Jones.
[12:30 – 2pm lunch break]
2pm – 3pm: Presentation of Plutarch Award and BIO Award
3:15pm – 4:15pm: Panels Session III, "Secrets and Lives: Ethical Dilemmas in Biography." Megan Marshall, moderator; Paul Fisher, Ruth Franklin, Abigail Santamaria.
4:30pm – 5:30pm: Panels Session IV, "Complicated Icons." Carla Kaplan, moderator; David Maraniss, Tamara Payne, Stacy Schiff.
We will share videos of livestreamed events with registrants several weeks after the conference.