Join Us for a Special Zoom Workshop with Ruth Franklin
Update: The recording of this event is available here.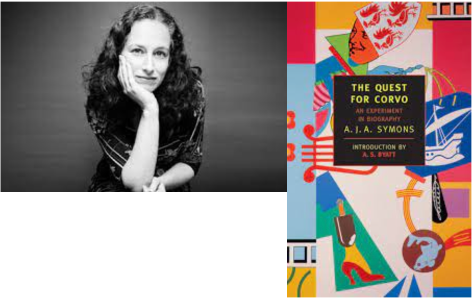 Please join us for a special Zoom workshop with Ruth Franklin as she discusses what biographers can learn about writing biography from closely reading one of her favorites, The Quest for Corvo: An Experiment in Biography (1934), in which A.J.A Symons attempts to chronicle the life of an elusive writer whom he discovers to be part priest, part con man. She will be interviewed by Anne Boyd Rioux.
This event will inaugurate a series of such discussions this winter and spring. Reading the book ahead of time will not be necessary for gaining insights about voice, structure, use of sources, and more. But if you can read at least part of it, that would surely enrich your experience. The event will also be recorded and available for later viewing.
To register and receive the link for the event, please go to https://us06web.zoom.us/meeting/register/tZIkcuyrrjIiGt3_V5moWoENfhLhL0-Avx6G
Ruth Franklin is a book critic, biographer, and former editor at The New Republic. Her book Shirley Jackson: A Rather Haunted Life won numerous awards, including the National Book Critics Circle Award for Biography and BIO's Plutarch Award, and was named a New York Times Notable Book of 2016, a Time magazine top nonfiction book of 2016, and a "best book of 2016" by The Boston Globe, the San Francisco Chronicle, NPR, and others. She is also the author of A Thousand Darknesses: Lies and Truth in Holocaust Fiction (2011), a finalist for the Sami Rohr Prize for Jewish Writing. Her criticism and essays appear in many publications, including the New Yorker, the New York Times Magazine, the New York Review of Books, and Harper's. She is the recipient of a Guggenheim Fellowship in biography, a Cullman Fellowship at the New York Public Library, a Leon Levy Fellowship in biography, and the Roger Shattuck Prize for Criticism.
Anne Boyd Rioux is a member of BIO's Board of Directors and the author of Meg, Jo, Beth, Amy: The Story of Little Women and Why It Still Matters (Norton 2018), chosen as one of the best books of 2018 by the Daily Mail, Library Journal, and A Mighty Girl. Her biography Constance Fenimore Woolson: Portrait of a Lady Novelist was chosen by the Chicago Tribune as one of the ten best books of 2016. She is the recipient of four National Endowment for the Humanities awards, two for public scholarship. You can find her online at https://anneboydrioux.com/.