Megan Marshall Wins 2022 BIO Award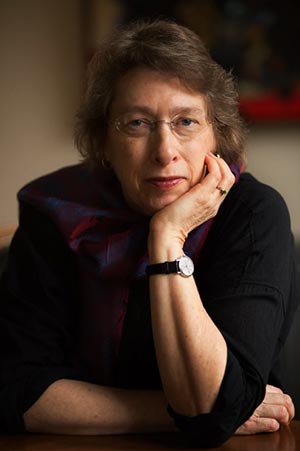 Megan Marshall is the winner of the 13th BIO Award, bestowed annually by the Biographers International Organization, to a distinguished colleague who has made major contributions to the advancement of the art and craft of biography.
Marshall is the author of three biographical works: The Peabody Sisters: Three Women Who Ignited American Romanticism (Houghton Mifflin, 2005), winner of the Francis Parkman Prize, Mark Lynton History Prize, and Massachusetts Book Award in Nonfiction, as well as a finalist for the Pulitzer Prize in Biography; Margaret Fuller: A New American Life (Houghton Mifflin Harcourt, 2013), winner of the Pulitzer Prize in Biography and Massachusetts Book Award in Nonfiction; and Elizabeth Bishop: A Miracle for Breakfast (Houghton Mifflin Harcourt, 2017), a finalist for the Christian Gauss Prize in Literary Criticism of the Phi Beta Kappa Society.
She is also the first Charles Wesley Emerson College Professor at Emerson College in Boston, where she teaches narrative nonfiction, life writing, and the art of archival research in the MFA Creative Writing Program. Marshall is a passionate advocate for the genre of biography as well as a practitioner, and a founder of the New England Biography Series at the Massachusetts Historical Society, which has presented several public programs each year for over a decade on topics related to biographical research and writing. Her essays and reviews have appeared in numerous publications, including The New Yorker, Atlantic, London Review of Books, New York Times Book Review, and Literary Hub. In support of her research and writing, Marshall has received fellowships from the National Endowment for the Humanities, John Simon Guggenheim Foundation, Radcliffe Institute for Advanced Study at Harvard University, Dorothy and Lewis B. Cullman Center for Scholars and Writers of the New York Public Library, Bogliasco Foundation Study Center in Italy, and T. S. Eliot House in Gloucester, Massachusetts, as well as a visiting professorship at Kyoto University. She has lectured widely on her work and appeared in documentary films on Fuller, Thoreau, and Poe.
Kai Bird, chair of the BIO Award Committee, stated: "Selecting a BIO Award winner is always a difficult matter because there are so many worthy candidates—but this year our committee quickly came to a unanimous decision when Megan Marshall's name was mentioned."
Upon receiving the news that she had won the award, Marshall said, "This is an astonishing and unexpected honor, and deeply meaningful. I remember the first presentation [of the award] to Jean Strouse, whose example led me into biographical work . . . and now all through the years, such great exemplars of the craft have been awarded this prize. To think of joining their distinguished company is quite overwhelming."
In addition to Strouse, previous BIO Award winners are David Levering Lewis, Hermione Lee, James McGrath Morris, Richard Holmes, Candice Millard, Claire Tomalin, Stacy Schiff, Ron Chernow, Arnold Rampersad, and Robert Caro.
Marshall will give the keynote address at the 2022 BIO Conference on Saturday, May 14.