Jonathan Segal to Receive 2015 Editorial Excellence Award at Special Event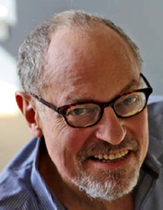 Jonathan Segal, editor of six Pulitzer-Prize winning books, will receive BIO's second annual Editorial Excellence Award on Wednesday, November 4, at a special event, "How Great Biographies Get Made and Why They Matter." Segal and five esteemed biographers who have worked with him will explore how major biographical works are conceived and crafted, and how a gifted editor can make the difference between a good biography and a great work that has a significant impact.
Presenting the award to Segal, a vice president and senior editor at Knopf, will be Carl Bernstein, journalist and author of the best-selling biography of Hillary Clinton, A Woman in Charge.
The evening also includes a panel discussion with:
Paul Hendrickson, author of Hemingway's Boat and a winner of the National Book Critics Circle Award
Eric Lax, former president of PEN USA, a BIO Advisory Council member, and the author of Woody Allen
T.J. Stiles, another BIO Advisory Council member and winner of both the Pulitzer Prize and a National Book Award and the author of The First Tycoon: The Epic Life of Cornelius Vanderbilt and the new Custer's Trials: A Life on the Frontier of a New America
Panel moderator Kate Buford, BIO Board member and the author of Native American Son: The Life and Sporting Legend of Jim Thorpe and Burt Lancaster: An American Life, both edited by Mr. Segal.
Light refreshments will be served, and the books listed here are available for purchase prior to the event at the Corner Bookstore, 1313 Madison Avenue at 93rd Street. Books will not be sold at the event.
The event is at Temple Israel, 112 East 75th Street (Park/Lexington), New York, and begins at 6:30 pm. It is open to the public and tickets are $35. They can be purchased here.
This celebration of Mr. Segal's editorial career was planned by Kate Buford, Gayle Feldman, Anne Heller, and Will Swift and is co-sponsored by the New York Society Library.