For The Love of Documentary: The Making of The Black Eagle of Harlem
By Billy Tooma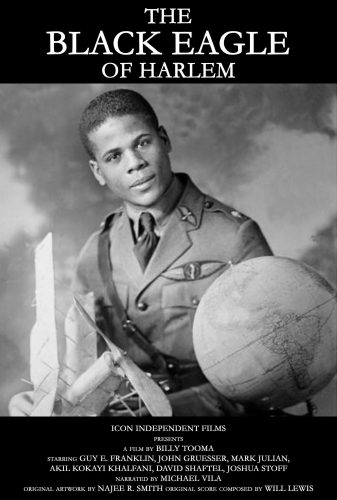 The Black Eagle of Harlem is a study in biography and forgotten history. Col. Hubert Fauntleroy Julian—aviator, soldier of fortune, and arms dealer—led a life of high adventure, finding himself at the center and periphery of major world events. Julian drew headlines wherever he went, generated a fair share of controversy, but most importantly he fought against racial attitudes and shattered countless stereotypes. He flew before Charles Lindbergh, traveled to Ethiopia before most Americans had seen their own Grand Canyon, and pushed for the advancement of his race even while many of his own people vilified him with accusations of being a flamboyant charlatan. Julian's Zelig-like ability to adapt and take on multiple personas helped him persevere in the face of adversity. The challenge of telling the most honest version of Julian's story is what drove this project. The documentary spawned from this study utilizes a combination of interviews, archival materials, voiceovers, and original artwork to recreate the amazing—sometimes unbelievable—life of the Black Eagle, one of the twentieth century's most intriguing icons. . . .
Primary sources were vital if I was going to craft the documentary's screenplay. A cold search, in early January 2015, produced Newspapers.com. A free preview showed that there were potentially hundreds of articles featuring Hubert Julian. I was able to access The New York Age and The Brooklyn Daily Eagle for a small fee. This information was readily available to anyone who wished to seek it out. None of this was new material, lost to history, and now suddenly being rediscovered in someone's basement. David McCullough points out that "though I've never written a book where I didn't find something new . . . it's more likely you see something that's been around a long time that others haven't seen." It was plain to see that there was just too much information out there for any one person to sift through, but it was up to me to make sense of what I was finding. The New York Times was next, but resulted in less than the ones that preceded it. Then I discovered The Chicago Defender's and The Pittsburgh Courier's archives. . . . [By] June 2015, the core of my research was accomplished. Hubert Julian's life, between 1922 and 1983, was accounted for on a near month-to-month basis. The trick now was how to put it all together.
There had to be a narrator controlling the story. There had to be direct quotations from the Black Eagle himself. And, there had to be direct quotations from the newspaper articles. All of this was quite clear. An interesting story, seeped in facts, was needed. I had to take the [existing] biographies, cross reference them with the newspaper articles, and determine the most honest version of Julian's life. That took weeks to accomplish and when I started to write the actual screenplay, after eight months of research and outlining, the process was still ongoing as I had to ensure I was maintaining objectivity. But to delay the writing any longer would have hurt me more than helped. McCullough calls research seductive, that the love of it can create the "tendency. . . to wander off on tangents," and Brian Jay Jones says something similar, pointing out that he knows he is ready to write once "I can sit down and make even just a chronological outline of my subject's life." I had the bulk of research completed. I had Julian's life written out in front of me. It was time to write. . . .
I had to be mindful of the story I wanted to tell. Always wanting to start at the end of Julian's adventures, I wrote a prologue, placing him in a United Nations prison in the early 1960s. . . . I extended the drama to allow an audience to really understand that they are about to watch the life story of a man who talked his way out of every jam he ever got into, but not at that moment up on the screen. It is this desire of mine to make sure that viewers are aware that no one, not even the focal point of the documentary, is safe. I am not trying to create dread. I am trying to create a moment of suspense. . . .
I planned out, well in advance, the type of visual mixture necessary to tell the story. To bring in a commissioned artist to render images for me only served to benefit the storytelling process. It was a much better alternative than finding miscellaneous photographs that would not make any sense up on the screen. . . . Viewers need to see Hubert Julian, the titular Black Eagle, parachute down into Harlem, New York, wearing a crimson jumpsuit while playing a saxophone. There is not a single photograph that captures the moment. So my style, grown from a sequence of perceiving what works and what does not work, characterizes how I believe the story should be represented and presented to an audience.
The archival materials: photographs, newspaper clippings, and newsreel footage were easy enough to acquire once I knew where to look. . . . The only newsreel footage that actually features Julian speaking, that I could find in a useable state, comes from the British Pathé archive. It is a wonderful 30-second clip with Julian, complete with his fake English accent, speaking on the plight of the Ethiopian people. While I was able to obtain a relatively modest collection of archival materials, my initial gut feeling of needing an artist was definitely validated. I could not have made this documentary without [them].
Because I have always been fascinated by the way [Ken] Burns makes a documentary, I knew I wanted to include voices other than that of the narrator's and interviewees. . . . I found several individuals who I thought had interesting-sounding voices and who could help me tell Julian's story. . . . Quite by accident, via another Google search, I found Mark Julian, the Black Eagle's son through his third marriage. Mark and I communicated for the first time right before Christmas 2014, and we have been on this journey together ever since. The words and phrases he used during his interview touched my heart, and I know that audiences will immediately connect with him. . . .
The editing of the documentary began in June. I set up different phases in order to be successful in this endeavor and not go insane in the process. The first thing to do was piece together the third-person narration, followed by the first-person voiceovers. . . . The visuals were next. If anyone ever tries to tell you it is easy to lay visuals into a film's editing timeline please let them know they are full of it. This is, by far, the hardest part. But, truth be told, it can be the most fun as well because it is at this phase when all of your hard work during the filmmaking process starts to really feel like it is paying off. It is hard in that you begin marrying yourself to specific visuals for specific moments. Then you need to figure out just how long you want to stay on a particular image before moving on to the next. Once this is all accomplished you have to bring movement into the mix. I believe in utilizing the pan and scan function, manipulating the imagery to move up and down, zoom in and out, whatever is necessary, in order to create a dynamic look to the film. This, together with the voice work, generates a flow that can quicken or slow the pace of a film depending upon how the filmmaker wishes it. I chose to have constantly moving imagery, at varying speeds, because I see my documentary as a living, breathing entity that needs room to spread out and expand its reach towards an audience. . . .
There is a sense of relief when the filmmaking process comes to its conclusion. Feelings of euphoria mixed with dread are present, as well. I do not know what people will think of this documentary. Those who I have screened it for tell me they think it is wonderful, but I often question their critiques, mostly out of anxiety. But the moment when the end credits flash and the words "A Film by Billy Tooma" can been seen is when I can take in a long breath and feel vindicated. It is my film.
To see the complete preface to Tooma's dissertation, from which this is excerpted, go here.
Billy Tooma holds a BA and MA in English from the William Paterson University of New Jersey. In 2017, he successfully defended his dissertation, earning a Doctor of Letters in Literary Studies from Drew University. Tooma is currently the Deputy Executive Director of the Community College Humanities Association and a trustee on the board of the New Jersey College English Association. He is an English instructor at Essex County College.