BIO Honors Gayatri Patnaik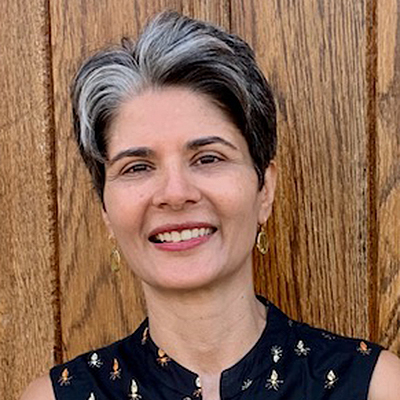 On November 9, BIO hosted a virtual event honoring Gayatri Patnaik, winner of the 2020 Editorial Excellence Award. Taking part were three of her authors: Imani Perry, Marcus Rediker, and Jeanne Theoharis, along with literary agent Tanya McKinnon. You can see a video of the event here. 
Patnaik is Associate Director and Editorial Director of Beacon Press, where for 18 years she has edited and published many books on race, ethnicity, and immigration. A native of India who emigrated with her family to the United States as a child, she has focused on African American history, creating Beacon's "ReVisioning American History" series and its "Queer Action / Queer Ideas" series.
Kai Bird, chair of BIO's Award Committee, with Tim Duggan, Peniel Joseph, Kitty Kelley, and Megan Marshall, praised Patnaik for her work as "a very gutsy, courageous editor who has taken on some high-risk, controversial biographies and published so many outstanding authors."
Imani Perry, the Hughes-Rogers Professor of African American Studies at Princeton University, is the author of Looking for Lorraine: The Radical Life of Lorraine Hansbury, winner of the PEN/Jacqueline Bograd Weld Award for Biography, the Lambda Literary Award for LGBTQ Nonfiction, and other awards.
Marcus Rediker, Distinguished Professor of History at the University of Pittsburgh, is the award-winning author of numerous books including The Fearless Benjamin Lay: The Quaker Dwarf who became the First Revolutionary Abolitionist.   
Jeanne Theoharis, Distinguished Professor of Political Science at Brooklyn College of the City University of New York, is the author of The Rebellious Life of Mrs. Rosa Parks, winner of the NAACP Image Award and the Letitia Woods Brown Award of the Association of Black Women Historians.
Tanya McKinnon, founder and principal of McKinnon Literary, represents New York Times bestselling and award-winning nonfiction that amplifies progressive voices, as well as fiction, children's books, and graphic novels.
BIO's Editorial Excellence Award is presented annually to an outstanding editor from nominations submitted by BIO members. Past recipients are Tim Duggan, Robert Gottlieb, Jonathan Segal, Ileene Smith, Nan A. Talese, and Robert Weil.