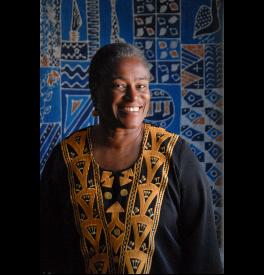 Sonja D. Williams is currently working on a book about the life and times of Richard Durham (1917-1984), a pioneering African American writer and gifted broadcast dramatist who was inducted in the National Radio Hall of Fame in 2007.
Articles about Durham and radio history written by Williams have appeared in the Encyclopedia of Radio (Fitzroy Dearborn, 2004) and the Historical Dictionary of American Radio (Greenwood Press, 1998). In addition, Williams has produced numerous award winning features and documentaries for public radio. She received three consecutive George Foster Peabody Awards, one of the broadcast/cable industry's most prestigious honors, for her role as a writer/producer on the NPR/Smithsonian series "Wade in the Water: African American Sacred Music Traditions," the NPR series "Making the Music" and the PRI/Smithsonian series "Black Radio: Telling It like It Was."
In 2009, Williams served as an executive producer for the 13-part, Gracie Award-winning radio series, "Uncrowned Queens: Voices of African American Women" for WNED in Buffalo, NY. A native New Yorker, Williams resides in Washington, DC.
Contact Information:
sdwilliams11@yahoo.com
WORK
Links to Sample Documentaries
NPR's Jazz Profiles: Betty Carter
NPR's Jazz Profiles: Melba Liston
Links to Information about Documentaries
Uncrowned Queens: Voices of African American Women
Black Radio: Telling It like It Was
Making the Music
Wade in the Water: African American Sacred Music Traditions
Website: http://www.sonjadwilliams.com/